From 1 Jan 2021, we run the Wilderness Camping.
My family consists of me, Carl Peter, my wife Jenny and our children Gustaf and Matilda. We will do our very best for you and for you to thrive.

We wish you all a warm welcome!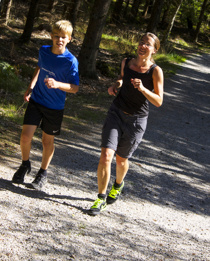 FIND silence, peacefulness, solitude, surrounded by miles and miles of evergreen forest, by the fresh springfed lake Arasjön. Here you'll find Swedens southernmost wilderness camping, far away from stores, banks (6 km) houses (2 km) and civilization. Situated in a beautiful forest with 2 miles of virgin shoreline, near the crater-made lake Mien in the middle of the cranes and greater loons territory. Here you can wander freely, swim or fish.
The sauna is always ready if you arrange a fire first!
The wood you need to handle yourself
The sanitation facilities are simple but functional!
come to a small campingplace with a lot of nature around you And relax in the wilderness ?
sit quietly, fishing from land or in a row boat on the lake?
follow an animal trail, small path, in the forest and maybe catch sight of a moose or a deer?
watch the sunset, while cooking your food over an camping fire?
Find a favorite spot where you'll want to return year after year?
try life without electricity. you can charge batteries at our farmhouse.
Take THE OPPORTUNITY TO READ THE BOOK YOU postponed? "
Food Cellar and outdoor kitchen is available for your COMFORT!
There are toilets all over the
camping area